Jehovah's Witnesses believe that:
What does mainstream Christianity believe?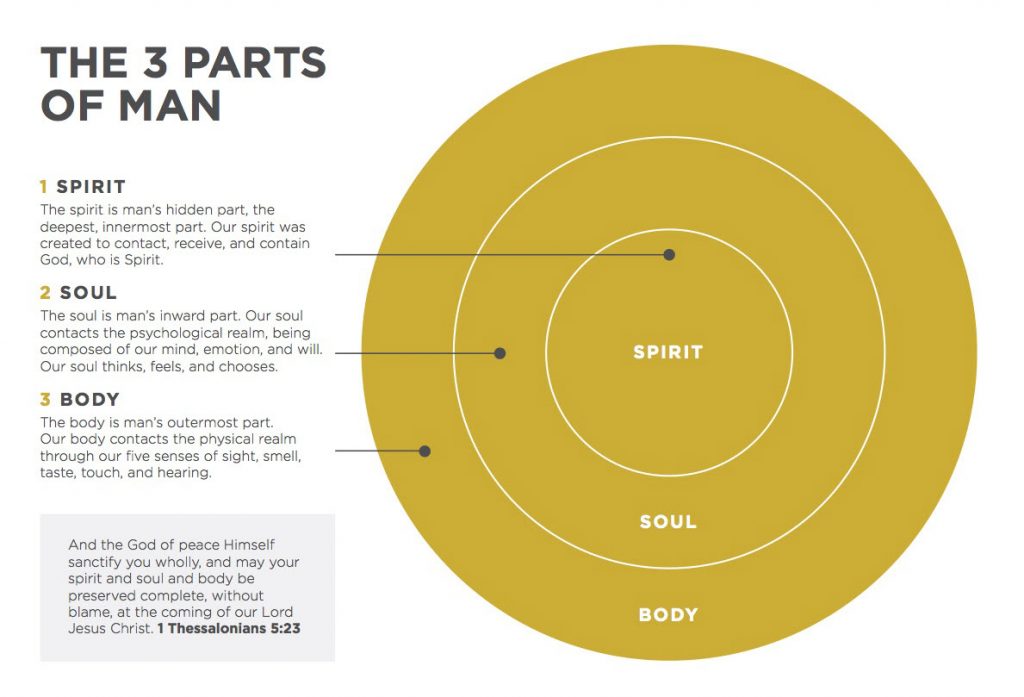 Q1. Of what is man composed?
Answer: Body, soul and spirit
Gen 2:7 Then the Lord God formed the man of dust from the ground and breathed into his nostrils the breath of life, and the man became a living creature [Heb נֶפֶשׁ nephesh, soul: a breathing creature, the life of the person; incorporating the mind, emotions, will and conscience]
1 Thess 5:23 Now may the God of peace himself sanctify you completely, and may your whole spirit and soul and body be kept blameless at the coming of our Lord Jesus Christ.
Q2. What is the soul and does it live on after the death of the body?
Answer: The soul is who you are: intellect, emotions, will, conscience (Ps 103:1).
At the instant of death, the human soul is immediately transferrd to God.
Gen 35:18 As her soul was departing (for she was dying), she called his name Ben-oni.
1 Kings 17:21-22 "O Lord my God, let this child's life [Heb נֶפֶשׁ nephesh] come into him again." And the Lord listened to the voice of Elijah. And the life [Heb soul] of the child came into him again, and he revived.
Matt 10:28 "Do not fear those who kill the body but cannot kill the soul. Rather fear him who can destroy both soul [Gr. ψυχή psyche] and body in hell [Gr. gehenna]."
Acts 20:9-10 Eutychus … being overcome by sleep, he fell down from the third story and was taken up dead. But Paul went down and bent over him, and taking him in his arms, said, "Do not be alarmed, for his life [ψυχή psyche, soul] is in him."
Rev 6:9-11 When he opened the fifth seal, I saw under the altar the souls of those who had been slain for the word of God and for the witness they had borne. They cried out with a loud voice, "O Sovereign Lord, holy and true, how long before you will judge and avenge our blood on those who dwell on the earth?" Then they were each given a white robe and told to rest a little longer, until the number of their fellow servants and their brothers should be complete, who were to be killed as they themselves had been.
(Also Rev 20:4)
Q3. Is the spirit of a man distinct from his body and soul?
Answer: The soul is the essence of humanity's being, it is who we are, whereas the spirit is the immaterial part of humanity that connects with God.
Zech 12:1 Thus declares the Lord, who stretched out the heavens and founded the earth and formed the spirit of man within him
Mark 2:8 Jesus, perceiving in his spirit that they thus questioned within themselves
Luke 1:46-47 Mary said, "My soul magnifies the Lord, and my spirit rejoices in God my Savior
Rom 8:16 The Spirit himself bears witness with our spirit that we are children of God
1 Cor 2:11 For who knows a person's thoughts except the spirit of that person, which is in him? So also no one comprehends the thoughts of God except the Spirit of God.
1 Cor 14:14 For if I pray in a tongue, my spirit prays but my mind is unfruitful.
2 Cor 7:1 Let us cleanse ourselves from every defilement of body and spirit, bringing holiness to completion in the fear of God.
(Also, Matt 26:41; Mark 8:12; Rom 1:9; 1 Cor 5:5; 6:20;14:2; 2 Tim 4:22)
Q4. What happens to the spirit at death?
Answer: It leaves the body, returns to God
Ps 146:3-4 Put not your trust in princes, in a son of man, in whom there is no salvation. When his breath [רוּחַ rü'·akh, spirit] departs, he returns to the earth; on that very day his plans perish.
Eccl 3:21; 12:7 Who knows whether the spirit of man goes upward and the spirit of the beast goes down into the earth? …the dust returns to the earth as it was, and the spirit returns to God who gave it.
Luke 8:52,55 "Do not weep, for she is not dead but sleeping." … And her spirit returned, and she got up at once.
Luke 23:46 Jesus, calling out with a loud voice, said, "Father, into your hands I commit my spirit!"
Acts 7:59-60 And as they were stoning Stephen, he called out, "Lord Jesus, receive my spirit." And falling to his knees he cried out with a loud voice, "Lord, do not hold this sin against them." And when he had said this, he fell asleep.
Heb 12:22-24 But you have come to Mount Zion and to the city of the living God, the heavenly Jerusalem, and to innumerable angels in festal gathering, and to the assembly of the firstborn who are enrolled in heaven, and to God, the judge of all, and to the spirits of the righteous made perfect, and to Jesus …
(Also 2 Cor 12:1-4)
Summary:
Man is composed of the spirit, the soul and the body
Though man in totality is often referred to in the Bible as a soul, many passages speak of the soul of man living on after the death of the body
The spirit of a man is a distinct entity, and normally dwells in the body
At death the spirit departs from the body
Endnotes
What Can the Bible Teach Us? Appendix 17
Insight Vol 2 pp 1004-1007
What Can the Bible Teach Us? Appendix 18
Reasoning pp 375-380
Article Credits: KevinQuick.com